Our Veterinarians
The Towne North Animal Hospital team of skilled veterinarians welcomes you to our practice. Proudly serving the San Antonio area. At Towne North Animal Hospital, it is our daily privilege to provide quality vet care to your cherished pet, with compassion and competence. We hope to ensure a positive impact on our patients, pet owners and the local community.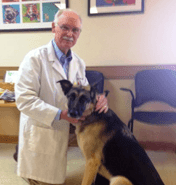 J. Dan McIlhany, DVM
Dr. McIlhany attended Texas A & M on a football scholarship and received his B.S. in Veterinary Science in 1965. After a three year hiatus from his education to play football with the Los Angeles Rams, he returned to Texas A& M and graduated in 1970 with his Doctor of Veterinary Medicine degree. Dr. "Mc" interned at Knowles Animal Hospital in Miami Florida, then established the Triangle Animal Clinic in Conroe Texas in 1973. He purchased Towne North Animal Hospital in 1984. Dr. McIlhany's wife, Barbara, is a Retail Merchant in San Antonio. They have 4 children. In his spare time, Dr. McIlhany raises Brangus and Maine Anjou cattle. When asked about his 30+ years of veterinary medicine, Dr. McIlhany responded with a smile and said, "Veterinary medicine has been a very enjoyable and rewarding adventure for me." Dr. McIlhany's home, as you would imagine, is filled with pets. Two German Shepherds, Simpson and Annie. His cats are Cassie, Mario, Tom, Jerry, and Bud who live at home. He also has an assortment of livestock which includes donkeys and cattle.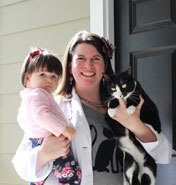 Cathryn Susanne Naranjo, DVM
A native Texan from Corpus Christi, Dr. Naranjo graduated from Ross University School of Veterinary Medicine. She sees animals as much more than pets; she sees them as part of the family. Dr. Naranjo's favorite aspects of Veterinary Medicine include emergency care and preventative medicine. She will show your pets the love and respect that they deserve. In addition to being a great doctor, she is a loving wife and mom. Dr. Naranjo and her husband have a wonderful daughter, whose nickname is "Kittybear", and a spunky cat named Godiva. At home she is a regular "Martha Stewart"; flexing her artistic muscle with scrapbooking, baking, and decorating.
Jeffrey P. Tinsley Jr., DVM
Dr. Tinsley originates from Atlanta, Georgia where he received his BSA in Biological Science from the University of Georgia and his DVM from Tuskegee University. He has completed a rotating internship at Blue Pearl San Antonio before recently joining the Towne North Family! His biggest passions within veterinary medicine include; connecting with clients, providing outstanding medical care and being the advocate for his patients! His favorite fields in veterinary medicine include radiology and nutrition. When Dr. Tinsley finds down time he loves taking his dog Renly to the park, cooking, CrossFit, and trying out local beer and eateries!